Filter Paper

Why should you buy your filter paper from Kavon Filter Products Co.?
Kavon Filter Products Co. is an authorized distributor of Ahlstrom-Munksjö high quality woven and non-woven filter paper. This filter paper is manufactured in the USA according to FDA standards and ISO-2001 certification.

Kavon Filter Products Co. has the warehouse capacity to stock small quantities of the most commonly used paper so we can immediately address any emergency requirements.
Filtration is an important process applied to solids, liquids and gases. By products and waste are now included in materials requiring filtration due to environmental protection compliances. As the field of filtration becomes broader and more sophisticated, so does the equipment and the filter media required to meet the demands. Greater technical expertise and experience are needed to accurately advise and select the correct filtration media for a specific process.
The following are common physical properties of filter paper:
Rapidity - water flow rate
Retention - degree to which media removes fine particles
Basis Weight - weight in pounds of 500 sheets, 20" x 20"
Thickness - thousandths of an inch (mils)
Wet Strength - Burst
Surface - smooth or creped
White filter papers are produced from bleached fibers of hardwood, soft wood, cotton or combinations, while tan or brown filter papers are manufactured from unbleached fibers. Both white and brown filter papers are available in smooth> or crepe surfaces. These grades vary in basis weight, thickness and micron retention making them suitable for many different filtration processes. In producing die cut sheets of filter paper, a drawing showing specific detailed dimensions is used to assure high quality controls.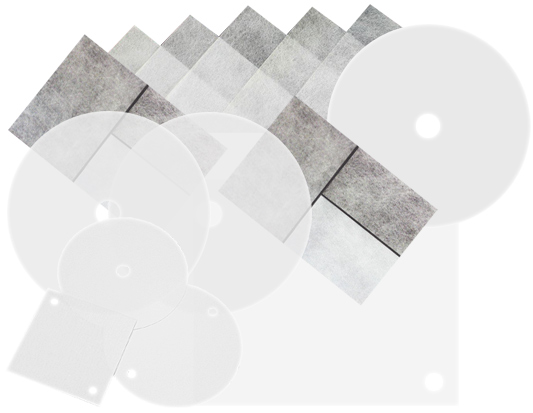 Start a Project
At Kavon Filter Products we are able to get the job done right the first time. We provide a level of quality that surpasses our customers' expectations while enhancing their position in the marketplace.
request information
products and capabilities
We manufacture quality replacement fluid bed dryer bags, sleeves, skirts, chutes and sleeves for cartridge filter units, as well as centrifuge liners and bags. Kavon Filter Products Co. is an authorized distributor for Ahlstrom-Munksjö filter paper and we stock many commonly used filter papers.
Browse our catalog